Step Code Solutions for Northern BC
In 2022, your projects will need to be 20 per cent more energy efficient than those built to meet the requirements of the 2018 BC Building Code.
Will you be ready?
We are here to help and let's start here:

Morning Workshop
May 19, 2021
8:30am - 10:30am
2 CPD Credits
FREE
*Pre-registration is required*
Please Pre-Register by clicking Here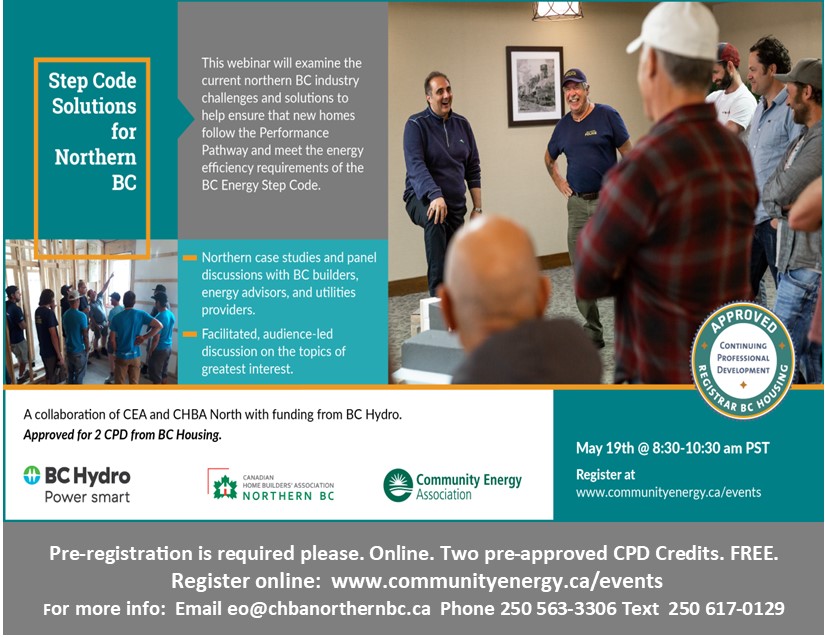 BC Building Codes are evolving and we want Northern BC to know how to benefit. This free-of-charge webinar is delivered by Community Energy Association (CEA) in collaboration with CHBA Northern BC, funded by BC Hydro, FortisBC & BC Housing.
This session will examine the current industry challenges and solutions to help ensure that new homes follow the Performance Pathway and meet the energy efficiency requirements of the BC Energy Step Code.
Northern case studies and panel discussions with northern BC builders, energy advisors, and utilities providers. Facilitated, audience-led discussion on the topics of greatest interest.
Intended audience: Builders, designers, sub-trades, building officials, municipal staff, and others in the Northern BC construction community.
Facilitators:
o Terri McConnachie, Executive Director, CHBA Northern BC
o Megan Lohmann, BC Energy Step Code Council and Head of Community Energy Management, CEA
Agenda:
8:30 – 8:50
CEA & CHBA Northern BC- Introduction to the BC Energy Step Code and the Northern BC Context

8:50 – 9:30
Builder Panel- Experiences in Step Code Compliance in the North and CHBA supports

9:30 – 10:05
Energy Advisor Panel– Role of an EA and process for Step Code compliance

10:05 – 10:25
BC Hydro/Fortis BC/ PNG– Utility Incentive and Support Programs

10:25 – 10:30
CEA - feedback poll & closing remarks